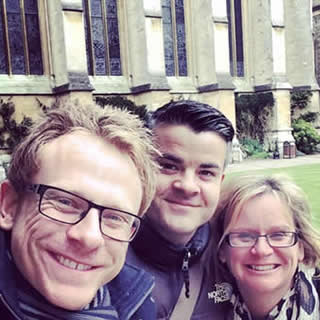 Morse tour for Lloyd Hollett & Keith Maynard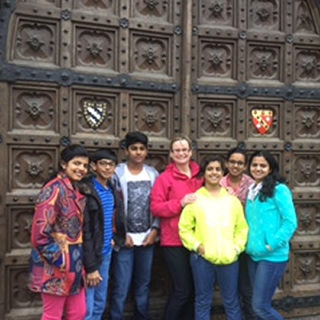 Family tour
Group tour on a rainy day – Endeavour filming!
Sunny group tour inside beautiful Exeter college
The Trout at Wolvercote
Christ Church dining hall
Endeavour filming
American university group inside The Divinity School
Amazing tour of the dreaming spires
Having visited Oxford previously on business I was keen to learn about this amazing and beautiful city. Our 2 hour walking tour was a wonderful way to discover the fascinating history of Oxford, it's colleges and the story of some of the city's most famous residents – authors, academics and politicians. Heidi our guide was massively knowledgeable, interesting and had a wonderful sense of humour. I can't believe I much I now feel to have learned in such a relatively short time. This is a must for any first time visitor, or anyone like myself, that has enjoyed the architecture without fully understanding the story of what you are admiring! Thank you for an inspiring morning!
TripAdvisor October 2018
Hi Heidi,
Thanks so much for your extra tip here and the beautiful time we had together.
Rick Steves
Travel Writer, USA
July 2015
Thanks so much for today. Your tour was absolutely amazing!
Mike Wiggins
UK
March 2016
We loved our tour! Thank you so much! Next time you will have to go to the Balliol with us 🙂
Shane Krotz
USA
March 2016
Dear Leigh,
Just got home yesterday! We enjoyed the tour in Oxford very much and feel that you gave us exactly what we wanted. It was truly a pleasure meeting you. Thank you for making our visit so very, very special. My daughter loved learning about all things "Alice." However, it was truly special for us all to learn so much about the the beautiful city and university of Oxford and each of it's colleges. You are a wonderful guide and so kind to tailor the tour for our desires and to be available at a moments' notice.
Rosie
USA
April 2016
Heidi and Kate were wonderful guides for our group of teenage students! They focused on the exact points we asked for: Lewis Carol, the Inklings, Harry Potter and general university information! We loved the insight and interesting facts! The tour was both fun and informative. Perfect for our group!
Anna
USA
March 2016
Hi Heidi,
We enjoyed our tour very much and learned a great deal about Oxford and its colleges. Judy promises to get the review for Trip Advisor done quickly and I can assure you it will be 5*. Thanks to you and Leigh for a great experience.
Good evening dear Heidi,
Just wanted to take this opportunity to thank you again for such a fabulous tour you gave us and an insight into the world of Morse.
Adam
UK
October 2014
Heidi
What can I say! Thank you so much for giving us a wonderful morning in Oxford. We all enjoyed ourselves and everyone commented on your style and presentation – full marks!
Ken
UK
October 2015
Hi Heidi
I wanted to say thank you for the excellent tour yesterday. We all thoroughly enjoyed the afternoon and learnt a great deal. Thank you.
Gina Allen
UK
October 2015
Hello Heidi,
I just wanted to say what a pleasure it was to meet you. You enriched our brief visit to Oxford tremendously. Many thanks. David and I loved it and I know Emma learned a lot too!!!
Missy, David and Emma
USA
March 2016
I arranged a private tour for a friend of mine from Beijing. We contacted Heidi online, she was very helpful and patient with us to book the tour at the last minute. The tour guide, Sandra was lovely, knowledgeable and friendly; my friend had a great 2-hour walk with Sandra. We will definitely recommend Heidi and Sandra to our Chinese friends who are visiting Oxford in the future.
Cynthia
UK
March 2016
Unfortunately, Heidi wasn't available for our tour, but her colleague, Leigh, provided a most excellent commentary on historic Oxford and its 38 distinct colleges. Leigh's pacing was excellent and she provided all of the factual background we wanted as we strolled through historic Oxford. And given the relatively cold and raw nature of the weather on that day, Leigh brought us indoors at most opportune times to see some different sites and to warm up a bit. An excellent couple of hours spent in Oxford.
Ron
UK
January 2016
My three children and I spend an enthralling two hours with Heidi on a fantastic walking tour of Oxford. We opted for the Harry Potter/Alice in Wonderland tour and Heidi kept the children interested for the entire time with so many interesting facts as well as pointing out sights we would have missed completely had we been on our own. We never knew just how much Harry Potter was filmed in Oxford and the children loved seeing so many of the places featured in the films. Film facts aside we also learnt lots of fascinating facts about the history of Oxford University and we loved looking round the colleges and hearing stories of the students everyday lives at such a historical place. Heidi was the perfect host, giving just the right amount of information and letting the children guess the answers so they were part of the tour but including information the adults were interested in too! It was a great way to explore beautiful Oxford for us all and I would highly recommend a walking tour for anybody! Thank you Heidi.
Kirsty
UK
July 2015
My family truly enjoyed our tour with Leigh. I had mentioned ahead of time that my girls would enjoy any Harry Potter or Alice in Wonderland references. Leigh perfectly incorporated that with the history and details of the university and city to make it enjoyable for everyone. In the 2 1/2 hours, we covered enough to give a true sense of the beautiful city. Loved it!!!
Grace
USA
August 2015
Our group of 27 toured with Heidi and Bella on our first day in Oxford. They both did an excellent job of explaining the major sights in Oxford, while keeping our jet-lagged students highly engaged. We host this group each year in Oxford, and Heidi and Bella by far gave the best tours we have taken in Oxford. Their keen attention to detail and ability to relate well with the college-aged students resulted in a very enjoyable 1.5 hours. Heidi is a fantastic person to work with! She responds very quickly to emails and is very thoughtful in planning her tours to be the most relevant to the group. I cannot recommend Walking Tours of Oxford enough – you will not be disappointed!
Evelyn
USA
July 2015