The Oxford University Natural History Museum
'On what side – your mother's or your father's – are you descended from an ape?'
This scathing put-down from Samuel Wilberforce, Bishop of Oxford, was ably fielded by its target, Thomas Henry Huxley, scientist, and proponent of Charles Darwin's Theory of Evolution.
'I'd rather be descended from an ape,' he said (allegedly), 'than from a divine who employs authority to stifle truth.' Touché!
This (or something along these lines) was the most memorable exchange of the Evolution Debate of 1860. It took place in Oxford in the newly opened Natural History Museum and both sides claimed victory (!). If you visit today, you will see a column commemorating the debate right outside the main entrance and a plaque upstairs.
Both religion and science were peculiarly bound up with the beginnings of the Oxford Natural History Museum. It was the inspiration of the Regius Professor of Medicine, Sir Henry Acland, but largely funded by the sale of Bibles to the Mid-West of America by Oxford University Press.
This is even reflected in the architecture. Either side of the main door stand Adam and Eve. Above them, at the apex, sits an angel, holding a Bible in one hand and a dividing cell in the other. The building was built 'to the glory of God' for the study of science and for a few years at least, all the University science departments were here, under one roof.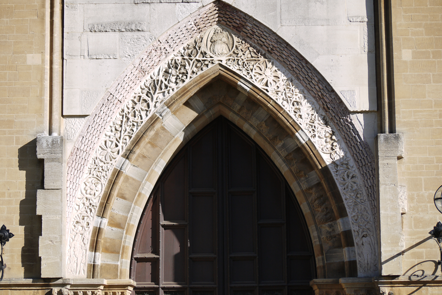 Before you even look at the exhibits, you will be struck by the roof. It is made of glass and covers a huge atrium. The atrium is surrounded columns made of stone and iron. All the stones are different (but British), and the iron columns are all surmounted by different leaves. This is Victorian Botanic Gothic at its best. Take a look at the photo on the Museum website https://www.oumnh.ox.ac.uk/museums-architecture
The first collections included natural history material from the original Tradescant collection in the Ashmolean Museum. This was supplemented with artefacts from 19th century scientists such as William Buckland. Buckland was a geologist and had a fabulous collection of petrified poo.
Today this is where you come to find the Geology, Mineralogy, Entomology and Zoology collections of Oxford University. And entrance is free!
Of course, the museum is now closed, but since you would only see a few thousand of its 7 million objects if you went along in person, you would do better visiting online in any case.
Our top tips are:
Buckland's Oxfordshire Dinosaur – the Megalosaurus. See here for a great online exhibit and lots of fascinating explanation. https://www.oumnh.ox.ac.uk/megalosaurus-and-oxfordshire-dinosaurs
The Oxford Dodo. Remember the Dodo in Alice in Wonderland? Charles Dodgson (or Dodo Dodgson – it was his own joke (he had a stutter)), better known as Lewis Carroll, brought Alice to visit shortly after the Museum opened. Read all about the Dodo here: https://oumnh.ox.ac.uk/the-oxford-dodo
Insects -bees, bugs, butterflies, spiders…. with 5 million specimens in the entomology collection, you could spend the rest of the lockdown looking at them. Go to: https://oumnh.ox.ac.uk/insects and notice that you can search the collections if you are interested in a specific insect.
Fossils – view Charles Lyell's fossils at https://oumnh.ox.ac.uk/collections-online#/item/oum-narrative-84123
First Animals Exhibition – this exhibition is scheduled to run until September 2020 and has gone online. There are films to watch and exhibits which you can virtually examine. It explains how animals adapted from millions of years ago until today. You could spend all day here. There's even a modern Evolution debate (though they didn't invite the Bishop of Oxford…). Enjoy! http://www.oum.ox.ac.uk/firstanimals/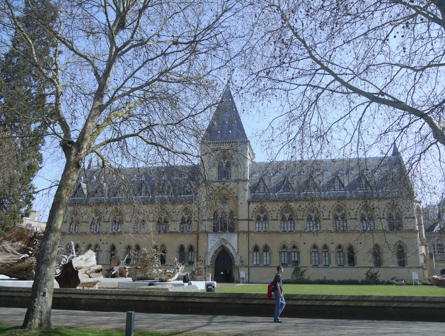 © Victoria Bentata 2020 for Walking Tours of Oxford